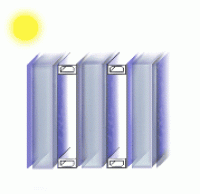 In addition to the high heat transition indicators, the triple glazed glass, filled in with glasses with different thickness (no matter what type they are – coloured, low-e, reflective) ensures higher coefficient of noise insulation. Even better is the noise insulation if any of the three glasses is laminated (triplex). The abovementioned glazed glasses are used in regions and streets with dB over the limits.
Possible are all combinations described in the double glazing, considering that difference more that 2mm between the glasses used for the triple glazing is not recommended.
Filling in one or two chambers with argon gas is also possible for us and therefore, will decrease the energy losses.