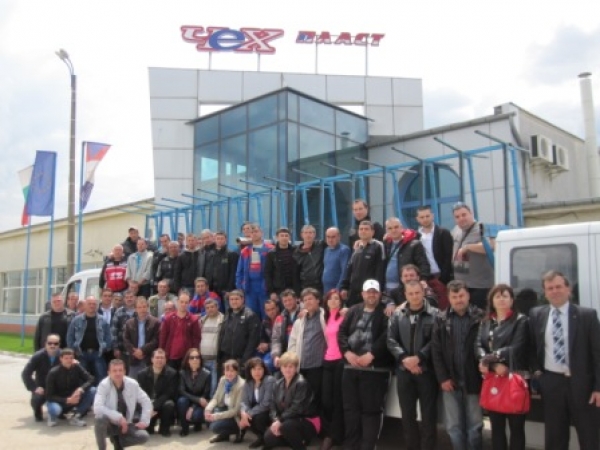 Cheh Plast Ltd., is a certified manufacturer and authorized Rehau partner. Cheh Plast offers production and installation of aluminum joinery, German PVC joinery, suspended facades, ventilated facades with composite panel, ceramics, HPL and ethernet, glass doors and windows, winter gardens, blinds, polycarbonate roofing.
The company was established in 2000 and is managed by engineer Dimitar Ivanov up to this day. The company now employs 67 professional engeneers and workers. The activity develops on 12,100 sq.m. property with 2900 sq. m. built-up area and is concentrated in 4 workshops for PVC joinery, AL joinery, glazing and metal welding workshop. The company works with PVC profiles REHAU - Germany and aluminum joinery of the companies ETEM, SCHUCO, REYNAERS and ALUMIL. For the construction of curved facades SCHUCO and ETEM profiles are used. Since 2004, Cech-Plast Ltd has been involved in the manufacture and installation of ventilated facades of composite material (ALPOLIC and ETALBOND), ceramics, HPL and wood as building lining as well as roofing structures made of glass and polycarbonate boards. These are products that we had to implement in order to meet customers' requirements for complex building closures. At the beginning of 2006, a glass workshop equipped with new machines of the Italian companies Poliglas and Z.Baveloni, which produces glasses for own use and sale, works with a low-emission glass - soft emission. In 2016, the company completely changed and renewed the aluminum and PVC production workshops with CNC machines, which doubled the production capacity of the company. The equipment is mainly made by German manufacturers URBAN, GRAULE, THORWESTEN, ROTOX and ELUMATEC, as well as Italian ITALMAC.
Clients of Cheh-Plast Ltd. can be defined as more demanding and although the company is based in the small town of Vratsa, its production is well known throughout the country. The company has offices in Sofia, Lovech and a representative in Burgas who have been working successfully for more than 5 years. Since the beginning of 2003, the company has been a certified manufacturer, since it has been certified by the Austrian and German representatives of the company as a quality certificate for the production of PVC joinery REHAU, and since May 2009 has been "Authorized REHAU partner". All this is due to the compactness of the company and the excellent professional training of the staff. Thanks to the above mentioned, Cech-Plast Ltd. Became a well-known name in the cities: Sofia, Lovech, Burgas, Mezdra, Sevlievo, Varna, Sozopol, Kozloduy and abroad (Raiffeisenbank, Belgium, France and Austria). The company definitely has experience in working with banks as clients. "Cheh-Plast" Ltd. has made over 200 branches of Raiffeisenbank as well as separate branches of UniCredit Bulbank, Postbank, Alpha Bank, Piraeus Bank, Cooperative Bank and Allianzbank.
"Cheh-Plast" Ltd. is a member of "Bulgarian Doors, Windows and Facades" Association from 2004. The Association includes more than 100 companies from the builders branch, who are positive, tat the only way to achieve results matching the client's demands is to invest in the business itself.
In 2016 and 2017, the company invested over 3 million Bulgarian levs in a new hall, machinery and equipment. In order to have the latest in the industry.
To meet the new requirements of architects and investors, Cheh-Plast Ltd. does not miss professional exhibitions specializing in the branch of the joinery manufacturers in Nuremberg and Munich, Germany, and to keep in touch with the latest innovations its regularly sending its experts to Thessaloniki, Greece and Istanbul, Turkey.