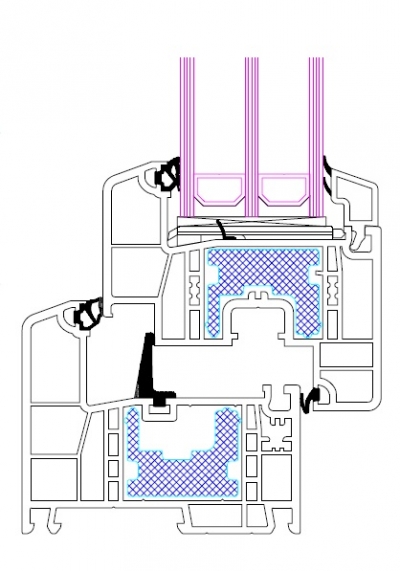 REHAU GENEO®
Width of the profile:
86 mm
Heat isolation: Uf : up to
0,85 W/m²K
for REHAU GENEO® MD plus Noise insulation: up to
class 5
Burglary stability: up to
class 3
with reinforcement,
class 2
without reinforcement Air permeability/Water-tightness:
class 4
in accordance with (DIN EN 12207)/9A (DIN EN 12208)
Elements without reinforcement could be built with the following dimensions: 2100 mm height and 1100 mm width.
The result is a new dimension in the production of windows, revolutionary connection between high technology REHAU material RAU-FIPRO® and innovative profile construction: REHAU GENEO®.
Unsurpassed Heat Isolation
GENEO is the best energy window system with building width 86 mm which is currently on the market. The most energy efficient windows in the respective class are realized with the GENEO profiles. They create the cozy climate which the construction entrepreneurs have always wanted. The secret is that the new system meets all energy requirements in a flexible way and it is not necessary to make compromises related to better noise insulation or more effective burglary protection when purchasing it. With GENEO the windows are manufactured with noise insulation class 5, and for burglary protection - with class wind resistance 2, without steel reinforcement and at the same time the unique heat isolation properties are used in their full capacity.