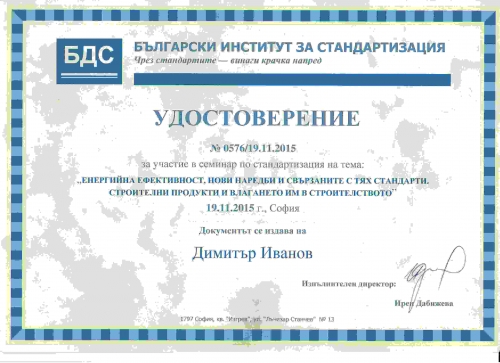 Bulgarian Institute for Standardization (BDS) organized a seminar on "Energy efficiency, new regulations and associated standards", which was held on 11.19.2015. The seminar was attended dpl. Eng. Dimitar Ivanov in his capacity as Manager of the company Cheh Plast Ltd.
The seminar was aimed to acquaint economic operators, bodies assessing compliance and designers with the National Programme for Energy Efficiency and related new developments in the legislation of the Republic of Bulgaria, as well as with European standards, supporting this legislation.
Participants were familiarized with Ordinance RD-02-20-1 / 2015 the terms and conditions of use of construction products in the works, procedures for assessment and a declaration of performance of construction products
They were presented and discussed new aspects of the Ordinance №7 the energy efficiency of buildings and implementation of national applications to the harmonized European standards to Regulation 305/2011 introduced as Bulgarian standards.