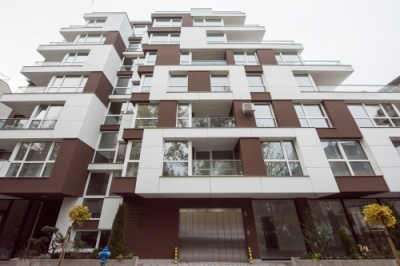 Cappuccino is a luxury residential building with modern architecture. It is located in one of the most prestigious districts of the capital "Oborishte" on a quiet street - "Bunaya" №16.
Investor and Contractor - Infinity Property Ltd.
Designer - Eng. Milen Pavlov, SM Engineering Ltd.
Architect - B1 Design Studio Ltd.
The joinery, made by Cech Plast Ltd., has a six-chamber PVC profile of the German company REHAU, a mounting profile of all positions on the perimeter - out of size, double glazing with a total width of 42 mm, white + white + low emission glass and SwissPacer spacer. A substructure for a ventilated facade made of fiber cement boards, supplied by the company "Corel 67", in white with heel Q18 vario, T profile 110x60x2, angle 60x40x2 on the bay window box 20 x 40.