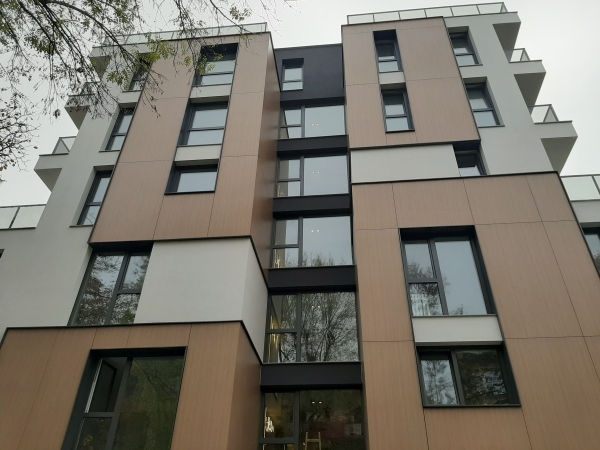 The luxury residential building The Pine is located in the prestigious Geo Milev district at 68 Hemus Street. It is located in a quiet place, only 400 meters from Geo Milev Park, near the Sky City Mall. The building stands out from the surrounding with elegant spatial forms and unique appearance. The building applies the trends of modern urban housing: luxury design, functionality and comfort, tranquillity and security, green environment and communicative location.
Investor and Contractor - Infinity Property Ltd.
The joinery made and installed by Cheh Plast Ltd. is a high-quality German 6-chamber PVC joinery REHAU with triple glazing, which increases the maximum noise and thermal insulation of the premises, Synego profile, colour one-sided externally in ALUX DB colour. Exterior window sill in architectural detail. Most of the windows in the building are French for the purpose of more illumination of the apartments. All openable windows and doors have a two-plane opening with metal adjustable hardware.
Individual parts of the facade are made with a suspended facade of HPL panels of the Austrian company Fundermax from the Pure Nature series, model Enigma. Characterized by high resistance to temperature amplitudes, strong fire-resistant properties, high water resistance and smooth surface. The ventilated facade is made of HPL panels with a thickness of 6 mm in colour wood on an aluminium substructure. The thermal insulation is secured with 100 mm thick laminated cotton wool, closed with a parodiffuse veil.
The external railings are of architectural detail with triplex glass.