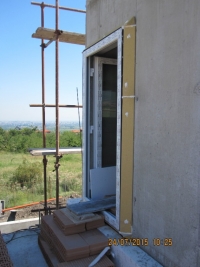 System installation of doors and windows outside the plane of the wall TREMCO-ILLBRUCK offers complete modern solution which meets the highest requirements for structural strength, heat, noise and air tightness of the installation in new construction and passive houses.
The system helps to improve thermal comfort, reduce heat loss around the perimeter of doors or windows and efficient removal of the zone of condensation outside the building basis, preventing mold and mildew.
The system consists of the following elements:
1. BASIC supporting profile with dimensions of 35 mm to 200 mm height. Made of PURENIT, with a relatively high density and low weight - from 5.8 to 7.5 kg / linear meter. PURENIT is also classified as flammability class B0 and pierce and cut with standard tools.
2.Grund AT140 - takes on construction base with a brush before applying the adhesive. Pressing for use in highly porous and barzopoglashtashti surfaces.
3. fast curing adhesive mounting SP340 - shall be two parallel lines with a special triangular tip to ensure good adhesion between the main bracket profile and wall, as well as the tightness between the two.
4. Multi membrane 3 in 1 Trioplex 652 - tape select the width of the profile system of the door or window, the bandwidth should be about 2-3 mm narrower. Select the appropriate size and as razduvnost - from 3 to 12 mm in the compressed state and 26 to 66 mm inflated operating condition. Multifunctional membrane Trioplex 652 that is not permeable to water vapor from the inside out, offers outstanding thermal and sound insulation in the middle and is permeable on the outside to bring residual construction moisture, while outside is waterproof (tested at 1000 Pa).
Бenefits:
1. certified products from over 20 leading institutions, incl. tests of ift Rosenheim and DIBt, approved for passive buildings.
2. 10-year functional guarantee.
3. Soundproofing 43 dB.
4. Classified in class RC2 and RC3, according to DIN EN 1627-1630