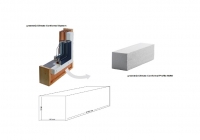 System for outdoor greenteQ Clima Conform System includes the following elements:
1. Main carrier profile 60 x 80 mm. - GreenteQ is a new type of insulation material that combines the high hardness of the best characteristics of thermal insulation (like styrofoam). The easy and reliable installation is achieved by high plasticity. Despite its high density, elongation at break is above 10%. This means that unevenness in the warp is compensated without damage to the profile - protruding areas such as small stones sink into the material without causing the drilling of the component. The profile allows you to quickly display the accumulated moisture inside and does not change size when changing conditions of the external environment, resistant to freezing and thawing.
2. greenteQ MS-Polymer-Klebstoff - glue that has high initial adhesion (without priming) to most common building materials such as galvanized and stainless steel, aluminum, zinc, copper, natural stone, concrete, bricks, cement cladding panels basis, wood, gypsum, glass, glazing, various plastics, etc. Suitable for sealing construction joints and deformation. Also used for connecting and fixing structural elements in various construction fields such as roofing, interior and exterior decoration of buildings
3. System lens-head screw for fixing windows made of plastic, wood and aluminum on the main bracket profile. The screw is made of hardened carbon steel, the surface is bright and galvanized.
Benefits:
1. Nominal value of thermal conductivity λ according to EN 12667 is 0,04 W / m K.
2. Characteristics fire is under DIN4102 B1.